Detectives needed for c1919 Tollcross picture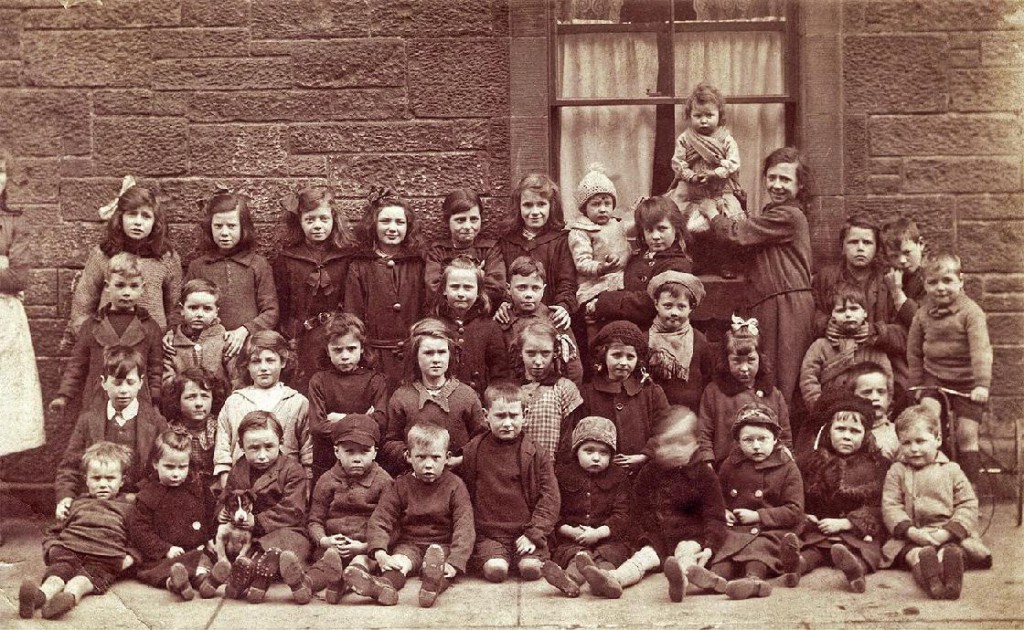 Tommy Robertson who runs the retro records shop Backtracks Music in Brougham st. has come across this photo c1919 taken in Drumdryan Street Tollcross featuring 38 kids 1 adult a dog and a tricycle, although I have not yet found out exactly where.
I discovered this photo on Edinphoto website and spoke to webmaster who is also interested in discovering details of Tollcross descendants and it may be interesting to get the community involved to see if we can find someone who knows about it.
Things I know:
1 There was a Robert Brown photo studio in Brougham Street from 1903-1925 previously run by his father 1885-1903
2 on 22 April 1911 A girl of about twelve years of age, named Molly Nisbet, who resides at Brougham Street Edinburgh, fell down stairs and was killed at the above address. She was removed in the ambulance to the Royal Infirmary, but died the way (from Evening News) she may have been related
Any help in getting some information may stimulate interest in the community and get people talking.
I have printed out copy which can be seen in the window of Backtracks Music & Games Shop, 17, Brougham Street Tollcross just round corner from Drumdryan Street Tollcross.If you have any information you can drop in the information to Tommy in his shop or email him @: tommy@backtracksmusic.co.uk or leave a comment below and maybe we can track down some more info.