About us
Tollcross Community Council
Community Councils exist across Scotland to keep Councils, Police and the NHS informed about the concerns of local people regarding the services provided and other local issues such as:
Litter, street cleaning, graffiti, pavement and road repairs, and waste recycling with the City of Edinburgh Council.
Policing matters, such as antisocial behaviour, graffiti, and drug dealing.
Changes to social care arrangements.
We comment every month on Planning Applications and new licensing proposals. Local councillors and Community Police come to our meetings; Council Officers give regular reports.
The area we cover: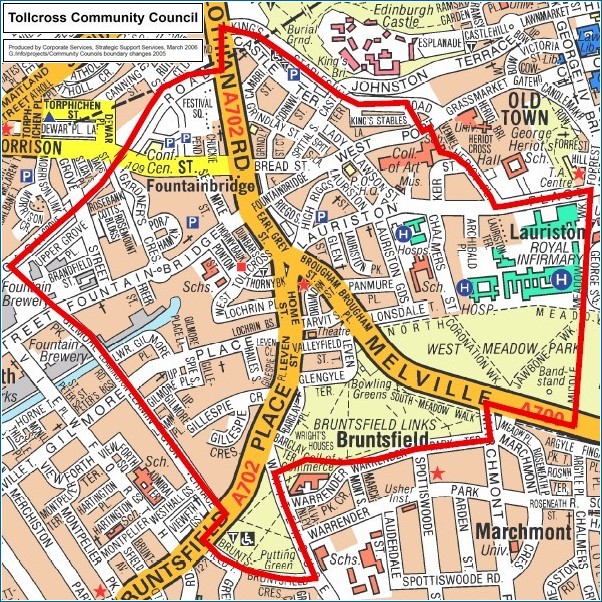 We have worked closely with the City Council to:
Improve the paving, lighting and railings outside the King's Theatre.
Remove the pallets, furniture and other debris from Thornybauk and improve the recycling facilities.
Improve the pavement and crossing at the corner of West Tollcross.
Provide evidence to the review on Statutory Repair Notices.
Improve the provision for barbecues on the Meadows.
We have lobbied the City Council to:
Reduce the over-use of the Meadows and Bruntsfield Links by commercial events.
Reduce the number of Houses of Multiple Occupancy on each stair to a maximum of 30%
Produce a resident-friendly new Local Plan.
Improved road surfaces in Tollcross
Improve the pedestrian experience of crossing major roads.
Improve health and social care issues.
Community Events
We support the Meadows and Canal Festivals.
Community Council meetings are open to everyone.
Come along – we want to hear your views!
In normal times we meet in Tollcross Community Centre on Fountainbridge 6.45pm – 8.45pm on the LAST Wednesday of every month (except July and December).  At the moment we're doing like everyone else and having Zoom meetings but hope to get back to face to face shortly.
We are governed by our Constitution and Standing Orders which can be view below:
Tollcross Community Council Constitution
Tollcross Community Council Standing Orders
Tollcross Community Council Code of Conduct
Tollcross Community Council Privacy Statement
For more information contact us on our contact page.