Ban on A-Boards across Edinburgh – Date announced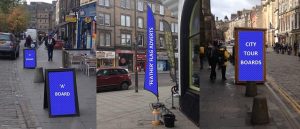 In May, the Transport and Environment Committee agreed that the citywide ban on A Boards and other temporary on-street advertising structures would come into action in late autumn 2018. Further to this, I just wanted to update you on the date for the commencement of the citywide ban, which will be Monday 5th November 2018.
Letters have been issued to businesses around the city to confirm this date, and from the 5th November, environmental wardens will be working their way through the city on an area-by-area basis initially to ensure awareness and provide guidance where required.
The dedicated website below will hopefully answer any queries you may have:
http://www.edinburgh.gov.uk/onstreetadverts
Also the guidance for businesses can be found here: business_guidance_April_2018.