Kings Stable Road planning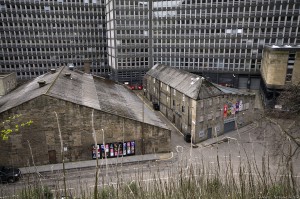 Proposal of Application Notice lodged for 6-28 King's Stables Road
Proposal of Application Notice and supplementary documentation relating to the proposed mixed-use development at 6-28 King's Stables Road, comprising:
 ·         hotel
·         one and two bedroom flats
·         student accommodation
·         arts facility
·         enhanced public realm
150415 PAN supplementary paper
The Old Town Development Trust also have sent a letter forward to object to the current scheme:
15.03.16_KingsStableRoad_F&R_Committee
Tollcross Community Council Chair Paul Beswick sent this letter regarding the Pre Application detailing Tollcross Community Council objections to the early plans, replying to the above letter for http://www.eotdt.org
We concur completely with your views about increasing the community of the Old Town with long term residents. Several members of Tollcross Community Council spent some cold evenings in the discussions with the planners to produce the development brief and we were generally satisfied with the draft development brief; a quote from it below. We were pretty outraged when the final draft included a large hotel. One of the young planners told us that the director knew that the developers wanted that and therefore changed the Brief.

The preferred use for the site is a mix of:

. Residential (a minimum of 25% of all houses should be affordable, as defined in relevant Council guidance);

•    Employment uses – class 4 offices – would be encouraged as part of an acceptable mix;

•    Commercial uses compatible with a predominantly residential scheme and environment, including local shopping and other uses appropriate to a local shopping centre, would also be acceptable fronting West Port and Lady Lawson Street;

•    The potential for a small hotel; and

•    Underground car parking using the contours of the site.

We have been through a long and tortuous series of consultations about the Fountainbridge sites which also came up with new housing and communities in the development briefs. However it seems that the predominant buildings will be student housing, hotels and apart-hotels, contributing transient populations and not settled communities. Our members are beginning to think that all our input to these consultations is a waste of time.
We await the details for the Pre Application Notification to come before the public.