Council due to change channels on Festival Sq. TV?
Recent developments by the City Council seem to be a complete U-turn on a decision made only last Augsust and reported in Edinburgh Evening News as: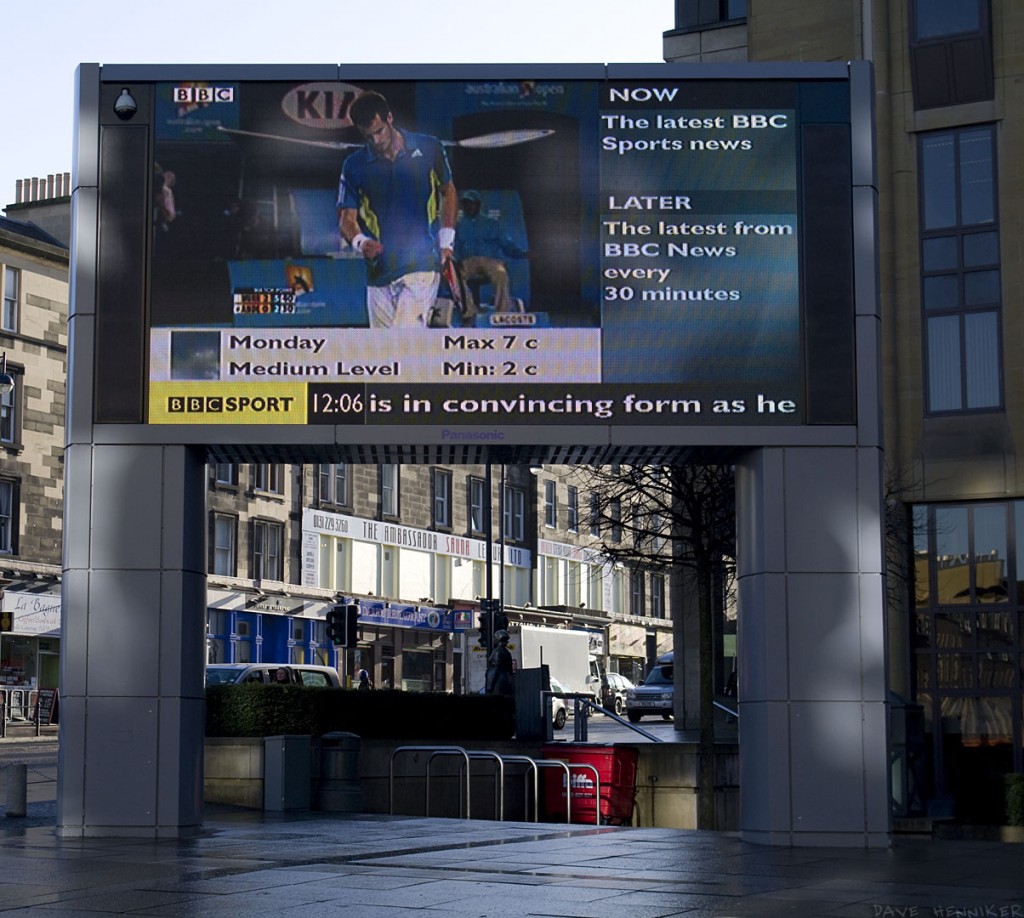 "THE plug is being pulled on Edinburgh's giant TV, with the screen set to come down next month due to high maintenance costs and lack of ­interest.The BBC is ending the contract that has allowed events like Wimbledon and last year's London Olympics to be shown on the Festival Square screen at no cost to the city council. The local authority is not willing to continue picking up the £26,000-a-year power and maintenance bill, meaning the screen's days are numbered."

You can view the full article here.
But only last week, noticed by Tollcross Community Council and others the TV is back on and is tuned in to stay on. In the Edinburgh planning list the following item appeared: 14/00081/FUL | Erection of television screen at Festival Square in retrospect for period to 31 December 2014. | Land At Festival Square Edinburgh – view the application here.
Seems London firm SIS Digital Advertising is keen to take over the site and push more and more adverts at passers by – and also throw in a few sporting matches too. Patrick Noone, director of SIS Digital Advertising, said he hoped the big screen would "run and run". He said: "It's a great amenity and it would be a shame to rip it up because there's so much going on this year, including the Commonwealth Games and the Ryder Cup. "We were alerted to the fate of the screen in a newspaper report saying it was going to be scrapped. We talked with a manager at the Sheraton Hotel who said that during Wimbledon there was a real party atmosphere and there was never any trouble and it would be a shame to put it away."
It would seem that this eyesore in Festival Square, which more often than not is broken and not even running, is now set to be run by a private company to push adverts to passers by. Tollcross Community Council had objected to the placement of the TV in the first place, have again written again to the Council to object.
Whilst some of the high profile BBC content has been popular, this has beenfairly infrequent; in general the screen is not watched most of the time and constitutes audio-visual pollution. The company seeking to gain permission (SIS Digital) specialises in big screen advertising and may be able to show some sporting content. A large audio- visual advertising hording in this place is unwanted by local residents.

Tollcross Community Council Letter

Read in full: Big Screen 14_00081_FUL
If your keen to switch over too feel free to object via reference: 14/00081/FUL, Case Officer  Francis Newton  0131 529 6435 francis.newton@edinburgh.gov.uk